Commisioned by Abertoir, this collection of silent horror shorts celebrates the inventive and imaginative in early cinema with a selection of rarely seen films on the lighter side of horror and, forming the programme's centrepiece, one of the truly dark but little known masterpieces of the avant-garde in silent cinema.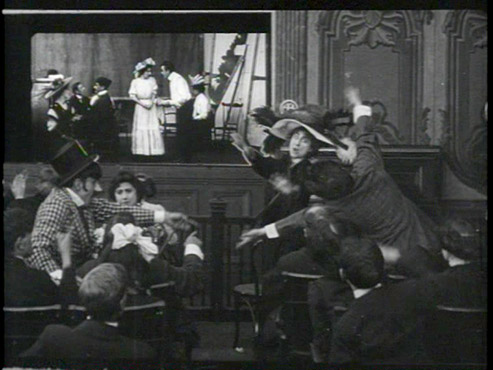 Those Awful Hats (1909)
D.W. Griffith, U.S.A, 3 mins.
Possibly the earliest example of a public announcement film and from none other than the director later famous for Birth of a Nation, a film which features some very unexpected happenings in a cinema audience.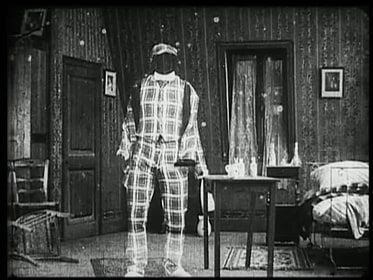 The Invisible Thief (1909)
Segundo de Chomón, France 5 mins.
The darker undertones of H. G. Wells' story are transformed into a delightful skit on crime with Chomon's camera techniques exploring every possibility of stop-motion and double exposure photography.  This is the earliest recorded film to make use of the renowned author as source material.

An Over-Incubated Baby (1901)
R.W. Paul, UK, 1 minute.
Robert W. Paul was a pioneering engineer of movie cameras and a filmaker with a keen eye for the fantastic and the bizarre. His films, such as this one and Undressing Extraordinary, are often cited as being some of the earliest manifestations of horror in film.  A cautionary tale of what happens if you leave a baby cooking for too long…..

The Man with a Rubber Head (1901)
Georges Méliès, France, 3 mins.
The inventor of inventive cinema applies his teeming imagination to his own remarkably distensible skull.

The Fall of the House of Usher (1928)
James Sibley Watson and Melville Webber, U.S.A., 13 mins.
This is unusual in being the work of a group of amateur filmakers with both financial and artistic clout. The use of prism photography suffuses the whole film with an eeriness and claustrophobia which lead inexorably to the truly horrific catharsis. In many ways the definitive cinematic version of the Edgar Allan Poe short story.

There It Is (1928)
Charley Bowers, U.S.A., 22 mins.
One of the now almost forgotten comedians of the silent era Charley Bowers is both actor, animator and inventor in this film. A thinly veiled ghost-house story is the vehicle for some extraordinarily surreal humour, for elaborate sequences of stunning camera effects rarely if ever seen in silent comedy, and for an eye-boggling array of Heath-Robinson-like contraptions which continually thwart the efforts of the two detectives (Charley and his midget assistant) to apprehend the malevolent spirit in the Daffydil Sanatorium.
All the films will be introduced and accompanied on the piano by Paul Shallcross, presenting his own brand new scores in public for the very first time.